JOIN THE DFC
---
---
ABOUT THE DFC

The Stargate Delta Force Command/SG-8 (DFC) is a faction on the Ausgate.net community. When called, we are first in and last out.
The DFC is looking for new recruits to help us as we train and fight the Goa'uld and protect Earth from all other threats!
We are a friendly group based at our faction HQ located within Ausgate.net and we also have a beta site at sg8dfc.boards.net.

We're ready to help you in your training and in your rise in rank in the SGC.
All we ask is that you stay active on the main site (Ausgate.net), have fun, don't be mean and love the Stargate universe.

Some of us are displaced veterans from Ryan's SGC site and Tux's SGA site and have found a home here.
But even if you decide not join the DFC, there are other factions that might fit you better,
so sign up and try Ausgate.net and maybe try another faction.
---
THE UNITS OF THE DFC
THE UNITS OF THE DFC


DFC BLACK OPS

DFC


COMBAT MEDICAL

DFC
DEMOLITIONS
DFC
FLIGHT COMMAND
| | | | | |
| --- | --- | --- | --- | --- |
| | | | | |
| DFC HELICOPTER SQUADRON | | DFC INTELLIGENCE | | DFC PUDDLE JUMPER SQUADRON |
---
JOIN THE DFC TODAY!!!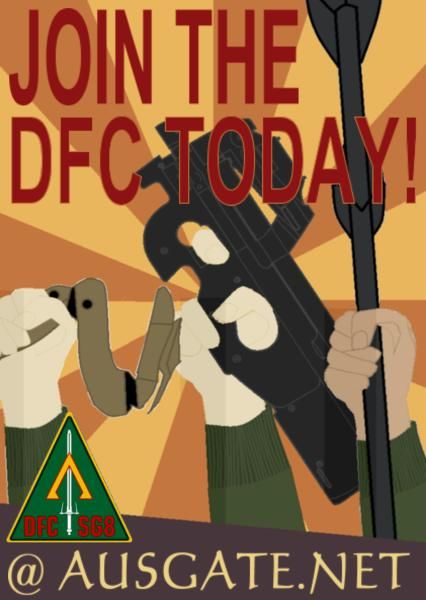 The DFC at
Ausgate.net